Mid Summer 3-day package offer
2x overnight stay in a spacious room, 2x luxurious breakfast buffet, 2x 3-course dinner in our restaurant, Various bicycle routes, Free use of indoor pool, wellness and gym
View this offer
Much more than a hotel
Come and enjoy the Hotel Almere!
Luxurious rooms and Suites in an environment with endless possibilities. Make it your weekend together.
An á la Carte restaurant and a cosy hotelbar. Be surprised by the culinary possibilities.
17 meeting rooms, free Wi-Fi and free parking facilities. Your guests will be pampered.
A modern swimming pool, a spacious fitness area, sauna and steamcabin. Enjoy endless relaxation.
&
Free Wi-Fi and parking
No reservation costs
Cancellation free of charge on day of arrival until 12 PM (noon). Excluded are non-refundable, early bird rates or exceptions
Sign up
YOUR ATTENTION PLEASE
Corona virus

Due to the measures that have been drawn up by the government and RIVM regarding the Corona virus, our restaurant, lobby and hotelbar are closed for all our guests. Until the 28th of April 2020, we are not allowed to organize breakfast, lunch(buffet) & diner.
Sunday brunch and Live Cooking buffet (on Saturdays) are also not available at the moment (as well as the Easter brunch & buffet). We do not know when this will start again.
If you are a hotel guest (have an overnight stay) we are able to prepare a breakfast package for you in the morning and we provide room service. Hotel Almere is open for overnight stays. If you have a reservation in the near future in Hotel Almere and you do have some questions or doubts, please contact our reception.

See here our measures
Enjoy the Spring!
Do you really want to enjoy the spring? Book this special priced Sprightly Spring package! Jump on your bike and discover Almere, enjoy your stay in a comfortable hotelroom and take a dive in our swimming pool.

We are looking forwards to welcome you at Hotel Almere!
Check out this package
Grab your bike!

Hotel Almere is the perfect base to discover the beautiful nature by bike. In Almere you will find various bicicleroutes, which takes you through the most beautiful nature areas of Almere like the Oostvaardersplassen, one of the largest contiguous wetlands in Western Europe. Take your own bike with you or rent a bike from us (based on availability).

Book you Bicycle package

Spent you summer in Almere

Nice temperatures and the sunshine lure us outside. A perfect reason to go out. That is why we offer this mid summer package: the ideal oppurtunity to taste summertime. You could enjoy the nice city beaches of Almere, cycling in the various nature landscapes, or shop till you drop in Almere City. We would like to welcome you at Van der Valk Hotel Almere and we would like to wish you a nice sunny summer!

Reserve your holiday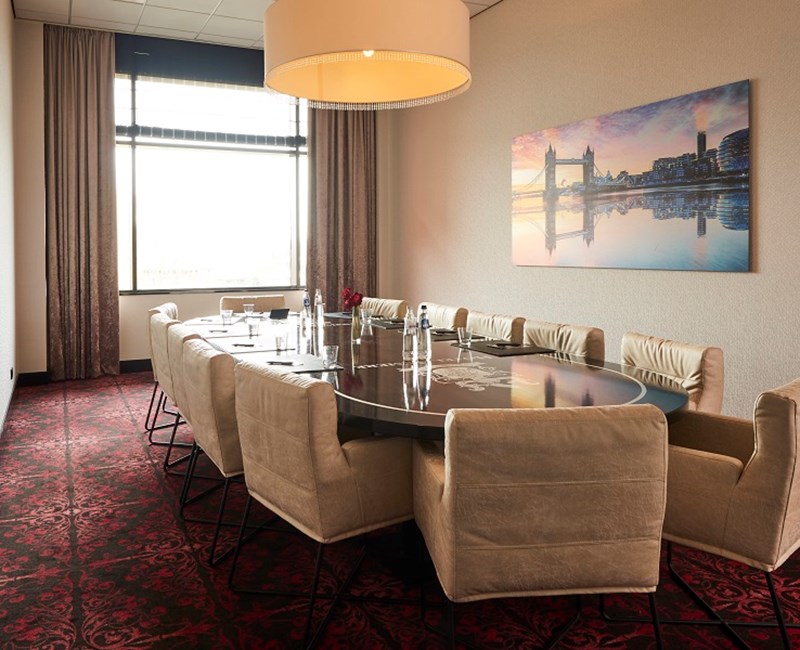 Meetings and Celebrations
Our enthusiastic team will make sure that your event is planned to perfection. If you are looking for a location for your training, a multi-day conference or a wedding. Hotel Almere is thé perfect place for every event!
Discover the possibilities
Dreamsuites for every occasion
Looking for a special night out? Hotel Almere always has a Suite that suits you. What do you think of a romantic getaway, a high level business trip or an unforgettable honeymoon?
Which suite suits you?
Check out! Our new Luxury rooms

Our Luxury rooms have been renewed! Reward yourself with an overnight stay in this spacious room with a balcony / terrace. Relax in the bubble bath and fall asleep in a comfortable king-size bed.

Book our Luxury room

Culinary experiences

Be surprised by the culinary possibilites Hotel Almere has to offer during a business lunch, a dinner, or festive occasion. Is it difficult to make a choice from the á la Carte menu? Combine different dishes during our extensive Live Cooking brunch and buffet.

Taste the possibilities
Relax in style
The luxury swimming pool is exclusively for our guests. End your busy day relaxed or start your new day fresh. Do you like sports? How about a work out in our spacious gym.
For ultimate relaxation we would like to invite you to make use of our newest facilities; our sauna and steamcabin.
PLEASE NOTE: Due to the Corona virus, until further notice our fitness, wellness and swimming pool will be closed until April 28, 2020. We apologize for the inconvenience.
Take a dive
Make sure to not miss a single offer!
Stay up-to-date about our exclusive deals and 72 hour promotions
Get tips for weekend getaways with discounts
Receive the Valk Exclusief Newsletter!